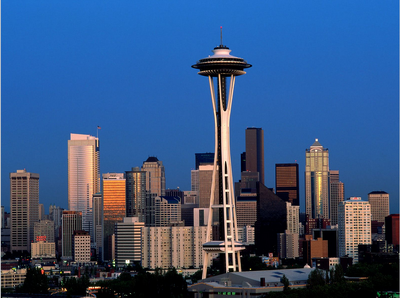 Seattle, Washington
is a real life city in King County, Washington, in the United States on planet Earth. With a 2011 estimate of 620,778 people living there, it is the largest city in the Pacific Northwest region of North America.
Before its founding, Native Americans inhabited the area for at least 4,000 years. The first European to visit there was George Vancouver in 1792. A large party led by Luther Collins claimed the land in 1851. It was incorporated as Seattle in 1869.
Films and TV shows Set in Seattle
Edit
It Happened at the World's Fair (1963 film)
Here Come the Brides (1968-1970 TV show)
Cinderella Liberty (1973 film)
The Night Strangler (1973 TV film)
The Parallax View (1974 film)
Streetwise (1984 documentary)
A Year in the Life (1986-1987 TV show)
Harry and the Hendersons (1987 film)
House of Games (1987 film)
The Fabulous Baker Boys (1989 film)
Say Anything... (1989 film)
American Heart (1992 film)
The Hand That Rocks the Cradle (1992 film)
Almost Home (1993 TV show)
Frasier (1993-2004 TV show)
Sleepless in Seattle (1993 film)
Man of the House (1995 film)
Medicine Ball (1995 TV show)
Under One Roof (1995 TV show)
Millennium (1996-1999 TV show)
Mr. & Mrs. Smith (1996 TV show)
Perfect Body (1997 TV film)
10 Things I Hate About You (1999 film)
Double Jeopardy (1999 film)
John Doe (2002-2003 TV show)
Life or Something Like It (2002 film)
Rose Red (2002 TV miniseries)
Agent Cody Banks (2003 film)
The Diary of Ellen Rimbauer (2003 TV miniseries)
The 4400 (2004-2007 TV show)
Life As We Know It (2004-2005 TV show)
Traffic (2004 miniseries)
Grey's Anatomy (TV show; 2005-present)
Night Stalker (2005-2006 TV show)
Weeds (2005-2012 TV show)
The Heart of the Game (2006 documentary)
Kyle XY (2006-2009 TV show)
Code Name: The Cleaner (2007 film)
iCarly (2007-2012 TV show)
The King of Kong: A Fistful of Dollars (2007 documentary)
The Last Mimzy (2007 film)
Private Practice (season 1; 2007-2013 TV show)
Reaper (2007-2009 TV show)
Battle in Seattle (2008 film)
Aqua Unit Patrol Squad 1 (TV show; years set in Seattle: 2011-present)
The Killing (TV show; 2011-present)
Ad blocker interference detected!
Wikia is a free-to-use site that makes money from advertising. We have a modified experience for viewers using ad blockers

Wikia is not accessible if you've made further modifications. Remove the custom ad blocker rule(s) and the page will load as expected.