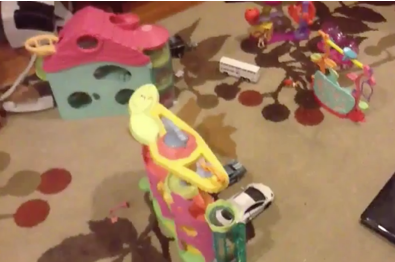 Pet Town is a famous City in Kentucky USA, and it is seen in LPS LIfe's youtube series Life of an LPS. It is large and hosts a large Famous talent show there and has the Pet Town Luxure and a City Dam. Pet Town also has a Public bus system run by the Pet Town Public Transportation which operates PTPT Buses. The city is surrounded by large hills, most likely the Appalachian mountains. The City also is an unclean one, in the downtown it is all nice and colorful, but in the outskirts industry thrives and the polluted area is seen to be very unsanitary, with unpaved roads and rocks everywhere from crumbling rocks. The PTPD is the law enforcement first seen in Episode 5 and also some areas seen are places outside of the city, like the Kentucky Countryside, the Little Airstrip and Route 11, all places near Pet Town but far enough where they are not in the City Perimeter as you might call it. Pet Town also has a Train loading Station for freight trains in the outskirts. The city also may not have a City Airport in 2013 and relies on the Little Airstrip outside of the city, for air travel, but in 2014 there is one.Outside of the city, the is the Statue of Freedom Tourist Site, one of Pet Town's most distinguishable landmarks Pet Town is known as the Las Vegas of the East but despite it's glamorous outside look and big skyline, outside of the Millionaire inhabited Downtown is the Outskirts and Dam district where the City Dam and Ghettoes are, a place where a certain criminal empire thrives, corrupting a lot of happenings around Pet Town, or, "The real Sin City" as it is known as. Later though, about around Episode 5, the criminal empire fell when the PTPD found out about where the base is. It is unknown what exact city, Pet Town is based off of, but it seems to share artributes with, Atlanta Georgia, Detroit Michigan, Las Vegas, and Frankfort Kentucky.
Pictures
Edit
Visit here to see more pictures and info:http: [1]

.
Ad blocker interference detected!
Wikia is a free-to-use site that makes money from advertising. We have a modified experience for viewers using ad blockers

Wikia is not accessible if you've made further modifications. Remove the custom ad blocker rule(s) and the page will load as expected.