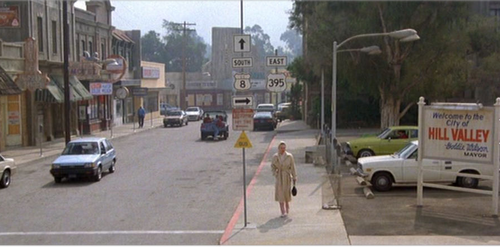 Hill Valley is a fictional town in the 'Back to the future' movies, about time travel. It is in California USA. It was first settled in 1850 and made official in 1865. It was connected by railroad to San Francisco. Construction of a new county courthouse was well underway in 1885, the year a new clock was dedicated for the building. The Shonash Ravine Bridge was completed in the Summer of 1886. In the 1950s the town was a bright developing town. In 1955 lightning struck the clock tower freezing it in time forever. The town was a large city by 1985 and many small businesses closed down. The cities motto is "A nice place to live".Hill Valley was located in Northern California, 12 miles east of Grass Valley, and with railway links to San Francisco. U.S. Route 395 passed through Hill Valley with a directional route shield posted in Courthouse Square. The town was nestled in rolling foothills, with an apparently temperate, albeit semi-arid climate, and, although there was a desert within walking distance of the town, the nearby lake froze over in the winter.The signs in Hill Valley also indicate that U.S. Route 8 can be reached from downtown, although that route is in Wisconsin. On the other hand, U.S. Route 395 and U.S. Route 6 intersect in Inyo County, California, near the town of Bishop, the Sierra Nevada Mountains, and the Death Valley desert. In an alternate timeline a corrupt mayor, Biff Tannen rules the town and turns it into a literal dump, but the main characters set history right. One of the famous streets is 'John F. Kennedy drive".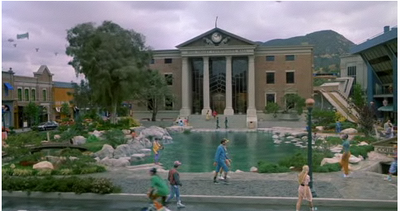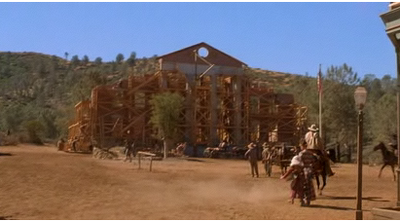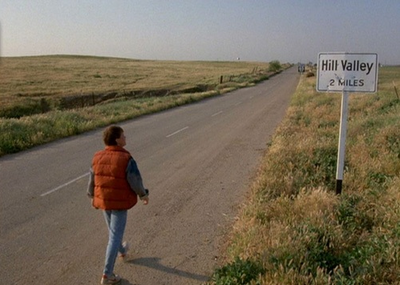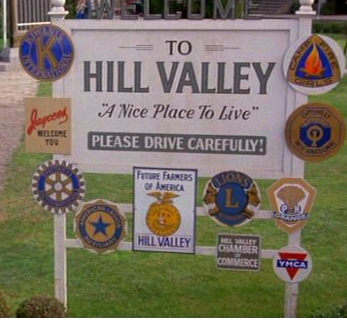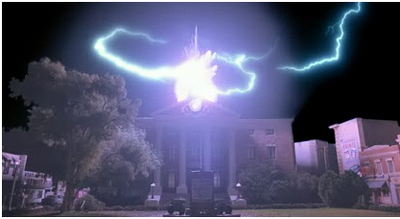 Ad blocker interference detected!
Wikia is a free-to-use site that makes money from advertising. We have a modified experience for viewers using ad blockers

Wikia is not accessible if you've made further modifications. Remove the custom ad blocker rule(s) and the page will load as expected.